This store requires javascript to be enabled for some features to work correctly.
WHOLESALE OPPORTUNITIES
Sell Power Plate Meals at your own business or find us in a grocery or convenient store near you.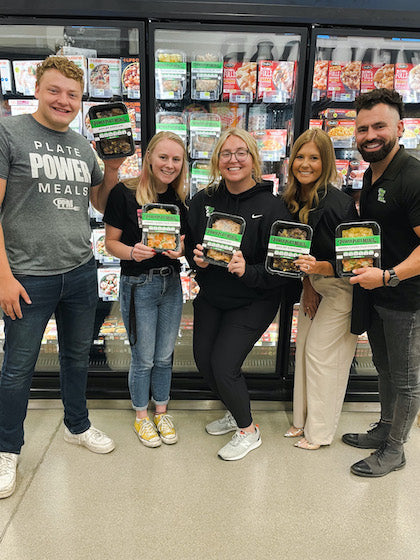 LEARN MORE ABOUT OUR WHOLESALE MEALS
At Power Plate Meals, our mission is to make healthy eating easy for everyone. More and more people are becoming conscious of what they put in their bodies and that's why we make our meals clean label, with only the best ingredients. From busy professionals and families to individuals with food sensitivities, we have meal options for everyone, including gluten-free, dairy-free, and plant-based. Our meals are made fresh in West Fargo, ND in our commercial kitchen. We are fully USDA & FDA-certified and are hungry to grow! Why do our customers choose us over other meal options? The most popular answer is that our meals actually taste good. We can confidently say we have the best-tasting, ready-to-eat meals in the market with clean, simple ingredients. Another reason is that our meals are truly packed with protein, averaging 30+ grams per meal. Our meals are balanced with 3-4 oz. of cooked protein with a healthy balance of carbs and fat. Unlike other pre-packaged meal options that contain fillers and only 20g protein, our meals are balanced with 3-4oz of cooked protein and a healthy mix of carbs and fat.
WHOLESALE FAQ'S
WHERE CAN YOU PURCHASE THEM?

Please see map for location reference
ARE THE WHOLESALE MEALS THE SAME AS THE IN STORE MENUS?

Wholesale meals that can be found at other businesses are a select menu.
DO THE WHOLESALE MEALS CHANGE BI-WEEKLY?

Our wholesale meals do not rotate bi-weekly like our in store and online menus do.
HOW DO I HEAT THEM UP?

Remove label and microwave meal, with plastic film still intact, for 4-5 minutes if frozen or 1.5-2.5 minutes if thawed, or temperature reaches at least 165˚F. Remove plastic film after heating. Caution steam.
INTERESTED IN SELLING POWER PLATE MEALS?
Wholesale meals are distributed by us and sold at other businesses nationwide. If you are a business and are interested in selling our meals, we'd love to hear from you! Please email wholesale@powerplatemeals.com for inquiries or questions.